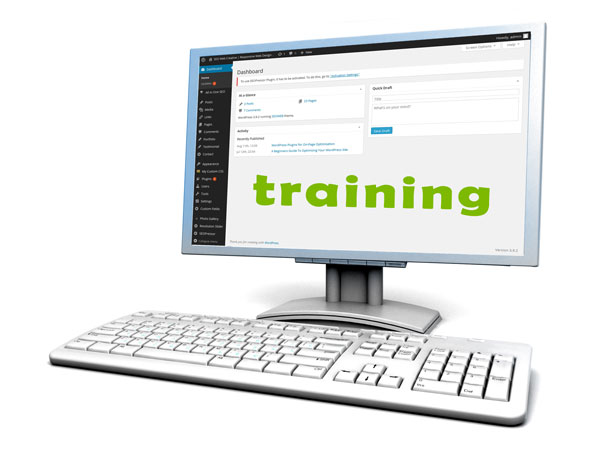 Update and Manage your Own WordPress Website?
SEO Web Creative offers WordPress training packages to empower you the business owner to be able to make changes to your own website. As a website owner often you need to be able to make changes quickly in order to replicate your current marketing, promotional offers, staff updates and price changes.
Or perhaps you just no longer want to wait for your webmaster to make updates for you and then get hit with a large invoice for changing a few words, an image, a couple of prices or perhaps even to remove a promotional offer.
Whatever your reason we can assist you to your desired outcome during our training courses and we can provide ongoing support to maintain a professional looking website.
To make training easy for you and your staff, courses are delivered on your premises. All we ask is that all participants have access to a internet connected computer and software for image manipulating, Microsoft paint is sufficient however Photoshop or other professional software is better.
We currently offer two courses one will empower you to be able to update, change and maintain your website and the other will cover what you need to do optimise your "on-page" content for search engines (SEO) inclusive of SEO plugins.
Please contact us to get an accurate quote for your website training.
Using WordPress Website Training
This course is aimed at business's who use a WordPress Content Management System and concentrates on the basics of using your website; course content includes:
Updating or changing your page content
Resizing and uploading of images
Uploading of downloadable documents and pdf documents
Embedding of video's
Creation of contact forms
Creating and formatting of new pages
Updating of navigation menus
Updating of elements within E-Commerce sites
Installation of blogs including categories
WordPress training courses will range in time between 4 to 8 hours depending on the complexity of your website, number of participants and the computer skills of participants. As you can imagine some people will move through the learning modules quicker than others and our aim is for you and or your staff to be confident to update your website.

p. 0407 811 380
e.
dave@seowebcreative.com
Setting Up On-Page SEO
This course is designed to impart the knowledge required to confidently set up and update your own on-page content in a manner which uses best practices to make your content search engine friendly.
Course content includes;
Keyword phrase selection
Keyword and competition research
use of semantic keyword phrases
How and where to use your keywords
How to best use Meta tagging
The best plug ins for on-page SEO
Installation and how to use Google Analytics
Verifying your website with Webmaster Tools
Creation of a Google My Business Page
This is a highly specialised course and will take between 5 to 8 hours depending on your website content and the keyword phrases you are targeting. The modules involving the integration of Google products with your site will require some advanced webmaster tools to be used.

p. 0407 811 380
e.
dave@seowebcreative.com
All
E-Commerce
Real Estate
Web Design
Wordpress